Utilizing Cookiebot For Data Security And User Consent
Are you looking for a way to ensure data security and user consent on your website? Cookiebot could be the answer. It is a powerful consent management platform that enables you to keep track of all the cookies and trackers on your website.
With more than 500,000 websites already using it and serving more than 10 billion user consents in more than 46 languages, Cookiebot is one of the most popular platforms for data security and user consent. Let us take a closer look at this amazing platform and its features and benefits.
Imagine having a comprehensive solution to all your website's data privacy and user consent concerns. A tool that not only helps you manage cookies and third-party services but also ensures that you're compliant with privacy regulations like the EU's GDPR and the e-privacy directive. That's where Cookiebot comes in.
Cookiebot is an EU-compliant cookie and consent management platform that empowers website owners and developers to take control of their website's cookies and user consent requirements. With its cutting-edge features, Cookiebot makes managing cookies and collecting user consent a breeze.
One of the standout features of Cookiebot is its cookie scanner, which scans your website and detects all the cookies and third-party services in use. This allows you to create a cookie policy that's GDPR-compliant and tailored to your website's specific needs.
Plus, with Cookiebot's customizable user consent form, you can seamlessly integrate a user-friendly consent mechanism into your website, ensuring that you collect proper consent for the cookies and services you use.
But that's not all! Cookiebot also provides tools to help you track and manage existing user consent, so you can keep tabs on who has consented to what. And with its built-in feature to monitor and update your cookie policy based on changes in regulations, you can stay ahead of the game and ensure ongoing compliance.
By leveraging Cookiebot, you can rest assured that your website is in full compliance with data privacy and user consent regulations. Your users' data is secure, and you can confidently showcase your commitment to privacy. Say goodbye to the hassle of managing cookies and consent manually, and say hello to a seamless, user-friendly solution with Cookiebot.
Benefits of Utilising CookieBot
Cookiebot is a powerful and efficient tool for gaining user consent and data security. It provides a reliable and secure solution for managing cookies and tracking scripts on websites. The benefits of using Cookiebot include:
Cookiebot simplifies the process of managing cookies and tracking scripts on your website. It provides an intuitive interface that allows website owners to quickly configure the tracking scripts used by their website. This helps to ensure that the tracking scripts used on the website are compliant with data protection regulations.
Comprehensive data protection
Cookiebot provides a comprehensive solution for data security. It helps keep sensitive user data secure by blocking unauthorised access to the user's personal information. It also offers tools for obtaining user consent for the use of cookies and tracking scripts.
Cookiebot is compliant with a wide range of data protection regulations, including GDPR, ePrivacy, and CCPA. This ensures that websites remain compliant with the latest data protection regulations, keeping websites and users' data secure.
Cookiebot is an affordable solution for data security and user consent. It offers a cost-effective solution for website owners to manage cookies and tracking scripts on their websites while ensuring compliance with data protection regulations.
Once a month, Cookiebot CMP will perform an automated cookie audit by scanning your website for cookies (HTTP/Javascript cookies, HTML5 local storage, Flash local shared object, Silverlight isolated storage, IndexedDB, ultrasound beacons, and pixel tags) and generating a cookie declaration with descriptions for every cookie found on your website.
With Cookiebot CMP, you are in full control of which cookies are set on your website. Instead of leaving it up to your website visitors to opt in or opt out at up to several hundred third-party cookie providers, Cookiebot CMP offers your visitors a simple, general choice of four types of cookies across all cookie providers.
By utilising Cookiebot, website owners can benefit from an easy and cost-effective solution for managing cookies and tracking scripts while also ensuring comprehensive data protection and compliance with data protection regulations. This helps protect both website owners and users from potential data security risks.
Cookiebot goes beyond just managing cookies and consent – it's a powerhouse of features designed to protect user data and ensure compliance with privacy regulations. One of its standout features is the cookie and tracking technology scanner, which acts as a vigilant guard against unauthorized data collection.
This advanced scanner detects and blocks any trackers that may be snooping on users without their consent. It even lets you set up custom rules and notifications, so you're instantly alerted if any data collection activities occur without proper consent.
Cookiebot also provides an intuitive and seamless cookie consent solution. With a user-friendly pop-up window that can be customized to match your website's design, you can easily inform visitors about the cookies and tracking technologies in use, and obtain their consent before any data is collected and stored. It's a hassle-free way to ensure compliance and transparency, while respecting your users' preferences.
But that's not all – Cookiebot goes the extra mile with its comprehensive Subject Access Request (SAR) feature. Companies can effortlessly store, manage, and respond to requests for data access, rectification, and erasure, all in one place. Users also have the convenience of submitting, managing, and tracking their SARs, giving them greater control over their data.
With Cookiebot's dedicated control centre, companies have a user-friendly hub to manage all aspects of their data privacy and subject access request activities. From monitoring user consent to managing data security processes and viewing detailed reports on data tracking activities, Cookiebot puts you in the driver's seat of your website's data protection journey.
Cookiebot is the ultimate all-in-one solution that empowers you to safeguard user data, ensure compliance, and enhance transparency – all with ease and simplicity. Say goodbye to data privacy headaches and hello to peace of mind with Cookiebot by your side.
Using Cookiebot to Implement Data Security and User Consent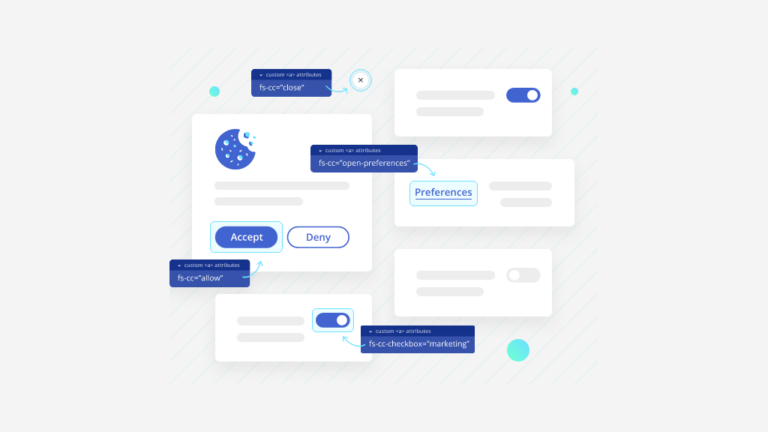 When implementing Cookiebot to ensure data security and user consent, website owners and operators must first define the purpose of the data they wish to collect. This should include a description of the type of data being collected, how it will be used, and any potential risks associated with it.
The next step is to create a cookie policy that clearly outlines the types of cookies being set on the website as well as the user's rights when it comes to the collection and processing of their personal data. This cookie policy should be displayed prominently on the website and be easily accessible to users.
Finally, the website owner or operator must create the necessary consent forms and tracking scripts to collect and store the user's consent. This will allow the website owner or operator to demonstrate compliance with data privacy laws and ensure the security of the user's data.
In a digital world where data privacy is paramount, Cookiebot is a game-changer for businesses of all sizes. With its robust security features and seamless consent management, Cookiebot empowers businesses to collect data safely and responsibly, while ensuring user consent every step of the way.
Automate your data security and consent processes, protect your customers, and promote your business goals with Cookiebot – the trusted choice for businesses serious about data privacy. Don't leave your data protection to chance – join the ranks of savvy businesses leveraging Cookiebot for peace of mind and compliance.
Get started today and experience the clear benefits of this powerful data security and consent solution!
Protect Your Users, Ensure Compliance, and Gain Peace of Mind with Cookiebot.