How to Build a Customer Persona: The Complete Guide
One of the foundations of digital marketing is persona-based marketing. Customer personas that portray your prospects and customers are frequently used in advertising, sales, the design of websites and software, and in shareholder communications.
Knowing how to meet the demands and interests of your target customers gives you a significant competitive edge since you'll be better able to provide the answers they require.
Therefore, a persona-based marketing approach helps you achieve your company goals by enhancing the client experience, increasing targeting precision, and utilizing behavioural data. But what exactly is a customer persona?
Let's get started! 
What is a Customer Persona?
A customer persona is a semi-fictional representation of your ideal customer that is built on data from your current customers and market research. Demographic information, behaviour patterns, motives, and goals of the consumer are also included in the process.
You can identify diverse sets or classes of clients using customer personas. You learn the geographic location, age range, and sometimes some purchase habits of a given demographic. You may better serve these homogeneous groups' interests by understanding your customers and them better with the use of all this information.
Download Our Free Customer Persona Template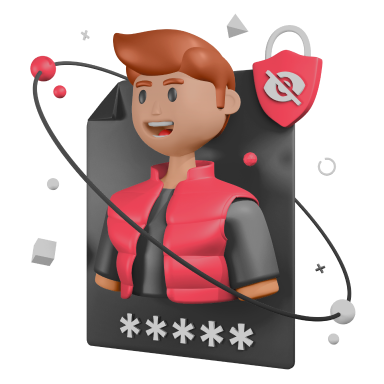 Types of Customer Personas
There isn't just one type of customer. Within the same audience, there are several different client kinds with just slightly dissimilar interests.
There are typically three main personas to take into account for the various customer types interacting with your organization.
Buyer persona: This persona portrays the consumer you want to buy your goods or services from. They are the most closely related to your revenue, thus they are crucial to your marketing plans and sales process.
User persona: embodies the consumers who will use your product or service. These personas serve as a reference for product design and features.
Website persona: reflects every visitor your website is meant to attract. They include current clients, investors, leads, and partners and assist to steer design.
You can visualize a strong sales and marketing funnel using these three different consumer persona categories.
You can start reaping the advantages of developing your own buyer personas with the help of these profiles. 
Benefits of Creating Customer Personas
Some of the advantages of developing a customer persona may have already been clear to you. Your company can benefit from and get significant insights from customer personas. The following are a few of these advantages and all the departments it can support:
Focuses team members on an objective that is customer-focused.
Increases chances to meet client requirements by putting them front and centre.
Creates features that enable them to attain desired results, which helps with product development.
Updates, campaigns, and initiatives may all be prioritized by all teams, saving time and resources.
Customer preferences drive choices rather than the other way around.
In order to overcome challenges when creating new goods and services, it can be helpful to have a persona. With that kind of direction, you can also identify the first indications of churn. Additionally, it may help marketers customise their messaging and promotional materials.
Apart from that, personas can promote staff connectedness. Organize your teams around shared target data. Persona development is a practical method for building a customer-focused workforce that is scalable for expansion.
In the end, your entire staff will be more prepared to assist clients and provide an improved experience. And satisfied consumers are those who return. Your product development process, user experience, and marketing efforts might all be compromised without a well-constructed consumer persona.
Although there are numerous methods to learn more about your clients, and you will continue to learn more about them as you offer them services- but wouldn't it be good to be ready with the knowledge of how to assist them?
Here's how to develop a consumer persona that can aid in your understanding your target market.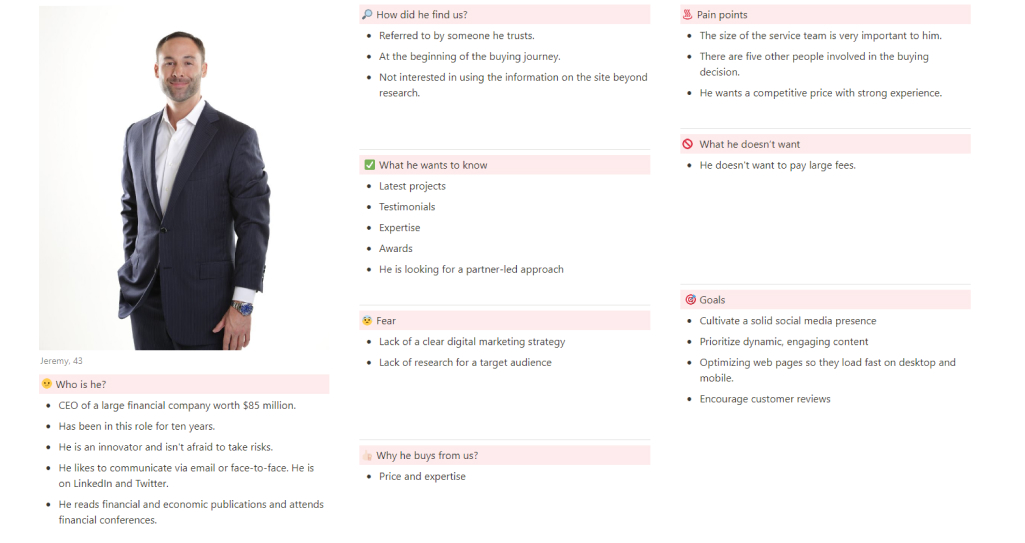 After you've created your customer persona profile, you're ready to start communicating with them. Include their likes and interests, and tailor your message depending on what you've learned. 
Customer Persona Template
If this is your first time creating a client persona, a template will come in handy. The good news is that there are several solutions available to you.
A customer persona template, like the one attached above, provides factors that you need to fill out in order to better understand your consumers. Fortunately, we've linked our free customer persona template that you can use to create your very own customer persona.
Head to this link to create your own customer persona profile. 
Download Our Free Customer Persona Template