What To Do After You Conduct a SWOT Analysis?
As we highlighted in a recent post detailing how to conduct a SWOT analysis, this strategizing technique is a beneficial and effective tool for evaluating your strengths, weaknesses, opportunities, and threats (S.W.O.T.). This allows you to establish an informative and actionable plan for moving forward.
But what exactly does such planning actually involve? How will you determine the best course of action to take next? This article highlights the planning procedure that should take place after doing a SWOT analysis. 
A SWOT analysis is a strategy for assessing your company's internal strengths (S) and weaknesses (W), as well as external opportunities and threats (O) and threats (T). These aspects can be incorporated into organizational planning to help you achieve your goals.
It enables you to target specific areas and identify actions that can assist you in building on your strengths, minimizing or eliminating your weaknesses, optimizing opportunities, and combating threats.
It's highly essential that you understand the importance of a SWOT Analysis and how to conduct one for your organization.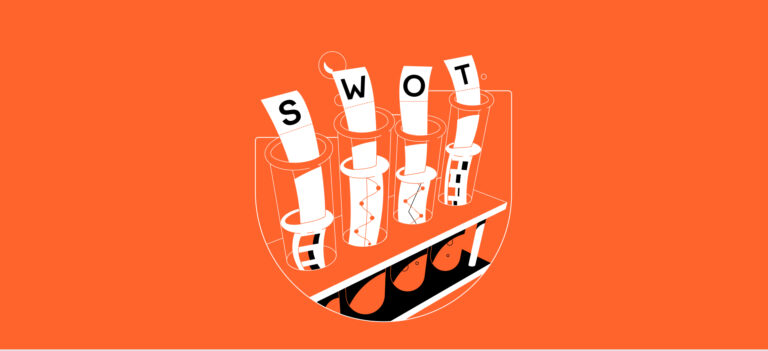 How to Conduct SWOT Analysis - Includes a Free Template
Taking Action After a SWOT Analysis
How can you advance your analysis and transform it into something that can be executed?
You need more than a simple point-in-time picture of the strengths, weaknesses, opportunities, and threats when designing a course of action, whether it be a strategy plan, project plan, change plan, product plan, or problem resolution plan. You must be able to interpret everything and turn it into a blueprint for moving forward.
Companies frequently conduct an analysis of their strengths, weaknesses, opportunities, and threats before developing and putting into action a set of steps they feel will address the issue. But what is the most effective strategy?
There are several factors that the organisation can use to its advantage. A company's competitive advantage can also be seen as one of its strengths. It will be tough to defeat the company where it is strong since it is powerful in terms of its strengthening aspects.
One of the best aspects of the strengths you found in your SWOT analysis is that you're already utilising them. Essentially, leveraging your company's strengths involves "doing more of what you're already strong at," especially when pursuing opportunities. Strengths are good, internal qualities that enable you to grab opportunities in the external world.
Do not mix these with the opportunities from a SWOT analysis. Internal elements within control make up strengths. You have the option to strengthen specific company segments in order to get an advantage. Opportunities, on the other hand, are uncontrollable outside circumstances that affect your business. To boost revenue and growth, opportunities in these new sectors might be explored.
Working on the weaknesses you found in your SWOT analysis is a little more complex because, in the first place, you have to be genuine enough with yourself about your shortcomings. Some of these weaknesses are particularly difficult to address. It may be quite challenging for small businesses to compete with a huge mainstream business that they are losing clients to.
That does not, however, mean that all efforts are futile. Although it may be more difficult for a small company to compete with a major player, there are many other ways for small businesses to be more competitive, such as by building solid, interactive relationships with their clients. While this is not only one of the company's strengths, it is also a strategy that larger companies simply cannot use.
Making the Most of Opportunities
Your SWOT analysis's Opportunities section is, by far, the most effective, and that's by intention. You should have a fully prepared list of goals to work toward by identifying opportunities and utilising your organization's full capabilities.
Opportunities have a variety of effects on your company, from subtle to game-changing. Businesses can expand to the degree that they seize and take advantage of possibilities in the external world. For executives and entrepreneurs, every opportunity is equally essential since they are influential with the people they manage.
Avoiding ignorance or complacency when it comes to your possibilities is also crucial. Even if you now dominate your sector with an unbeatable edge, failure to invest enough time, money, or human resources into sustaining that advantage may cause you to eventually miss out on these possibilities.
Opportunities for every organisation will be unique, but it's crucial that you have a clear plan for utilising your opportunities, whether they are internal or external. 
Every threat is distinct, as are the acceptable responses to those threats. No matter which precise risks you've discovered in your SWOT analysis, dealing with them and keeping an eye on them should be among your top priorities, regardless of the degree to which you have influence over them.
Determine if each threat is certain to happen, extremely likely to occur, unlikely to occur, or uncertain. Then list the threats that are most urgent. Prepare for threats that are certain to occur or are very likely to do so. Keep an eye out for any changes in the likelihood or urgency of the improbable or uncertain threats.
Since threats are often external variables, there isn't much you can do to limit the potential harm of causes outside of your control. Anticipating and minimising the threats found in your SWOT analysis may be the most challenging issue you face in this situation.
The next stage is to rearrange the data in order to uncover potential strategic options to explore, make decisions, and incorporate those decisions into your strategic plan. Answer the following questions:
How can we make the most of our widest opportunities by utilising our strengths?
How can we overcome our greatest Threats by utilising our strengths?
What must we do in order to strengthen our weaknesses and improve our capacity to seize opportunities?
How can we lessen our weaknesses so that we may more easily defeat our threats?
By giving answers to these questions, potential strategic choices are presented, which can then be assessed to decide on the best course of action. Making decisions is the essence of strategy, and this study is designed to assist you in reducing your options for further consideration.
An action plan should be created and monitored to make sure the following actions are taken and a strategic decision is made in order to prevent losing momentum. Update your strategic plan, establish long- and short-term objectives, and create an action plan to involve the entire team.
A SWOT analysis can be highly beneficial for your organisation, as it gives you a sense of what and where you should focus your efforts to help the growth of your business.
Ensure that the relationship between your SWOT analysis and your strategy map is strong and unambiguous. For instance, if you own a for-profit business, your financial viewpoint will be your main concern. Incorporate your analysis into your roadmap in a way that will help your business move in the right direction.
It is also essential to continuously monitor your progress so that you can adjust your course of action in a timely manner if needed.